Your business is growing. Now is the time to attract and retain the best talent on the market. It's time for employer branding.
Employer branding is much more than a buzzword, it's the path to success.
You've established your company, you have a workplace – now let's build a brand together that will attract the right people for you. Accurate employer branding enhances the identity of your company through the way in which employees and candidates, clients and suppliers want to interact with and participate in it.
At iTalent, we have all the knowledge and talent to help you refine your messages, understand your business and specify your brand. We will guide you through building an internal and external brand so your company can continue to grow while maintaining its core values. Our many advantages come from our experience in recruitment and marketing. These two elements create the perfect combination and a process that has been assimilated into our organization over time.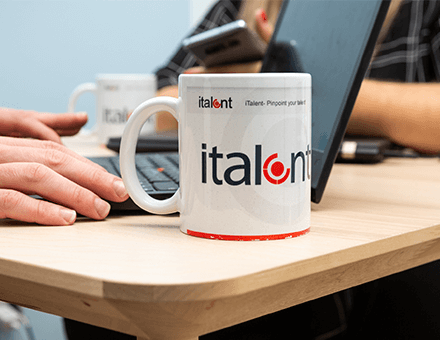 iTalent Service Advantages
We know that together we can bring out your passion and realize your dream of building a great business. Our team will be happy to work with you to empower your brand and encourage people to join your company while retaining good employees and creating an environment in which everyone wants to grow together with you. Our unique services include:
This process is pivotal for your business, and you only have one chance to get it right, so don't cut corners. If you don't have any experience in this area, we'll guide you and guarantee the future of your company and those who remain with you.
Our outplacement services are all-inclusive, helping you part ways positively. This service includes preparations and guidance in constructing a dismissal process before offering valuable guidance to released employees, defining their career paths and preparing them for job interviews.
We're committed to leaving organizations and their people in a truly better place – 
 more changeable, more engaged and better equipped for creating a better future.